A comprehensive lineup for patient safety
Reusable and single-use surgical table accessories focused on patient, staff, and equipment safety
"We got comfortable with TrenGuard, especially for large patients. [One surgeon] was afraid a patient might slide off the bed or experience nerve damage. So, we just started using TrenGuard because of how confident we became in it. With other means that we used, the patient would slide."
Gloria RN at major teaching and research hospital in Michigan
Patient positioning–it's our specialty
D. A. Surgical provides expert patient-positioning solutions in the surgical suite for conventional and robotic surgery including:

Laparoscopy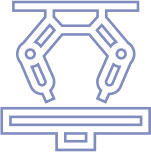 Robotic
Surgery

General
Surgery
We proudly maintain an ISO 13485:2016 Certified Quality Management System.
Want to see the powerful difference our products can make for your procedures?
Just complete the form below.
Reference: 1. Barber J. Preventing patient sliding in steep Trendelenburg. Poster presented at: OR Manager™ Conference, September 21-23, 2016, Las Vegas, NV.